Bespoke Diamond Tennis Necklace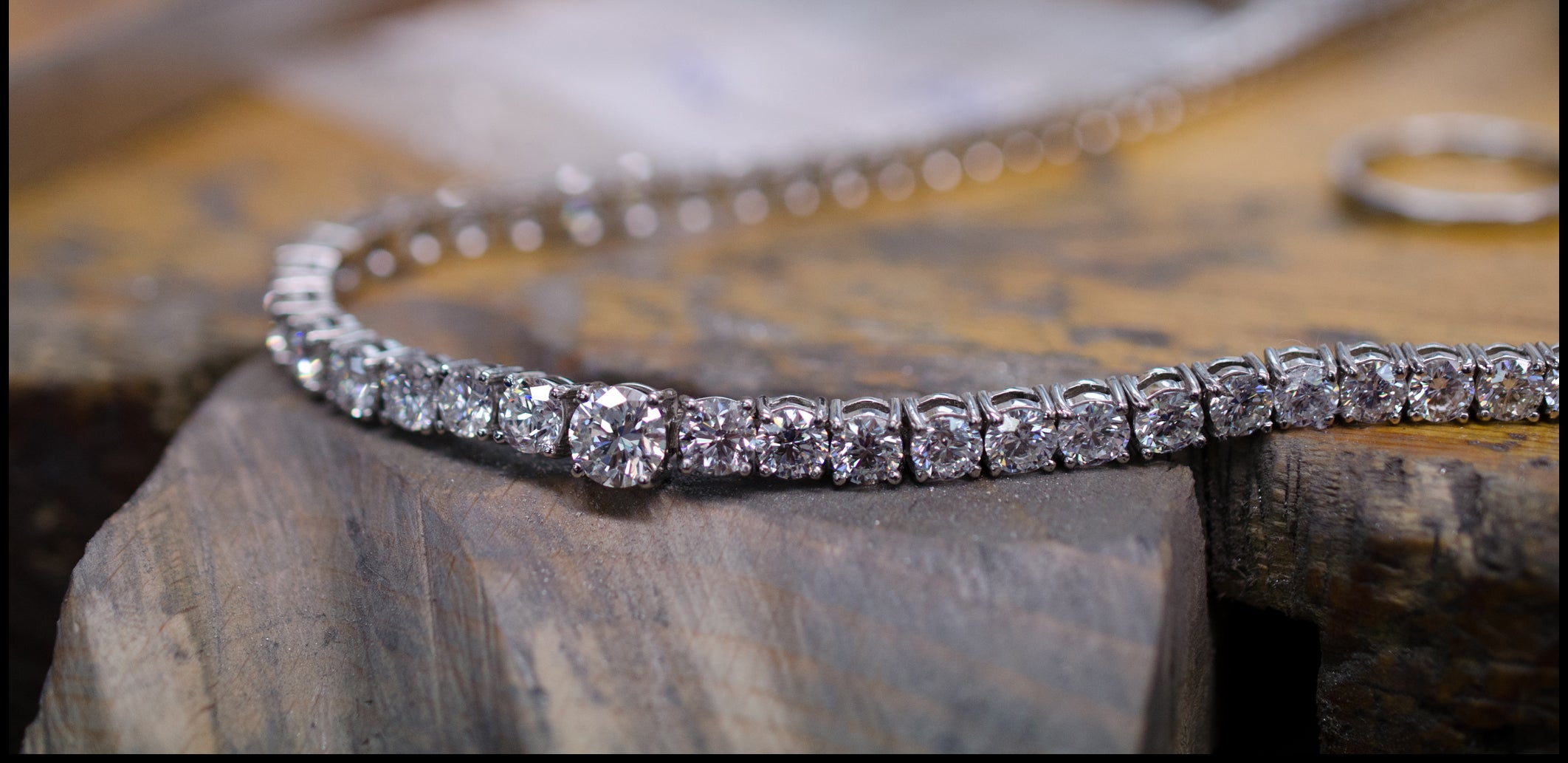 In this case study we will show you pictures of the most impressive bespoke tennis necklaces we have ever created. Set entirely with beautiful Round Brilliant diamonds in Platinum.
Here at Element Bespoke Jewellery we never like to do anything by halves! This necklace was no exception…
Our customer sought us out because they knew of our reputation for taking on commissions for high quality, specially designed and made to order jewellery. They had a clear idea of what they wanted but to achieve the finished bespoke piece they desired, they would need both a highly skilled model maker and a diamond setter, so that the necklace would be stunning and totally wearable and secure when finished.. and finished  to the highest standard.
First the set of diamonds had to be sourced. For a necklace like this there is no need to have certified diamonds but you do need a set of stones matching in colour and cut. It's import that the table sizes of the stones are matching.. it's attention to detail like this that makes the necklace as near perfect as possible. The necklace was comprised of a large diamond to the centre and then a graduation of stones all the way around. We advised our customer that the stones should be no less than a G colour so that the stones were a nice bright white and a clarity of SI so that no inclusions could be seen to the naked eye. An approximate weight of 50 carats went into this necklace!
Once the stones were ready, a model was made for the sections of the tennis necklace, Greg and Joe worked on the settings, they were to be 4 claw and the sections moveable to allow maximum comfort. Each section painstakingly made. The sections were cast in platinum and the process of building the necklace was on Greg's shoulders. Every section had to be perfect as no gaps would be allowed! At Element we don't cut corners.
Once Greg was happy, the necklace was prepared for setting process by lightly polishing the settings…once the stones were set there would be no chance to polish the Platinum behind. This is not as easy job!
Lastly the necklace went to our Les, our Diamond setter…the overall beauty of the necklace rested on his precision setting, he never lets us down. An amazing 6 hours later and the necklace was finished!
Ready for a final polish, a laser Assay mark from the Birmingham Assay Office with our personal Et makers mark … Just time for Hannah to model it for us! and then into the box…