Bespoke Pear Diamond Halo Engagement Ring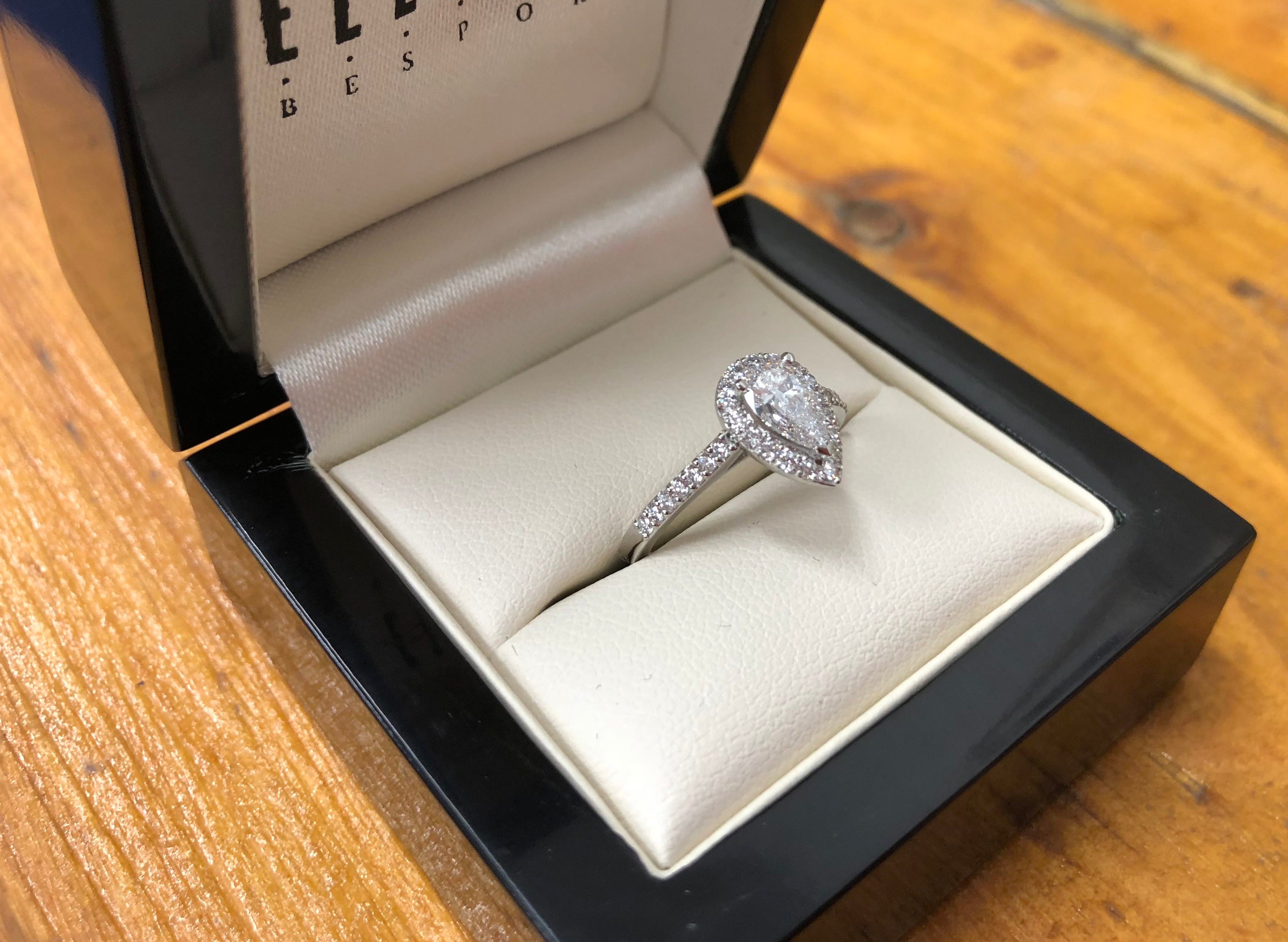 This week we've been finishing this gorgeous pear diamond halo engagement ring, here's the process from start to finish.
Although we have many designs of engagement rings in our cabinets, sometimes customer's would like something a little different. We make most of our engagement rings to order. A lovely chap visited us looking for a pear diamond halo ring, so after showing a number of halo styles, we sourced a selection of diamonds for him to choose from to suit his budget.
Step one – Choosing your diamond
We had three diamonds to choose from all suiting the budget but varying in the colour, clarity or carat of the diamond. This sparkly 0.50ct pear diamond was chosen for the centre stone.
Step two – CAD Design and Model
The CAD design is made to suit the centre stone of the engagement ring and 3-D printed into plastic so the customer can get a sense of scale and detail. Luckily the model was perfect, but sometimes we do make some alterations at this point to refine the design.
Step three – Casting, stone setting, hallmarking & polishing.
Now the ring is ready to be made into platinum!
The finished design! The pear diamond centre is surrounded by a halo of 0.01ct diamonds, with diamonds on the shoulders too. Underneath the central setting is hidden a 'peek-a-boo' diamond, a lovely little secret detail. You'll be glad to hear the intended recipient of the ring said yes! 
If you would like to have an unusual bespoke ring made with us please get in touch on 0121 236 1119 or email us at mail@elementbespokejewellery.com.