Cushion Cut Diamond Double Talon Claw Engagement Ring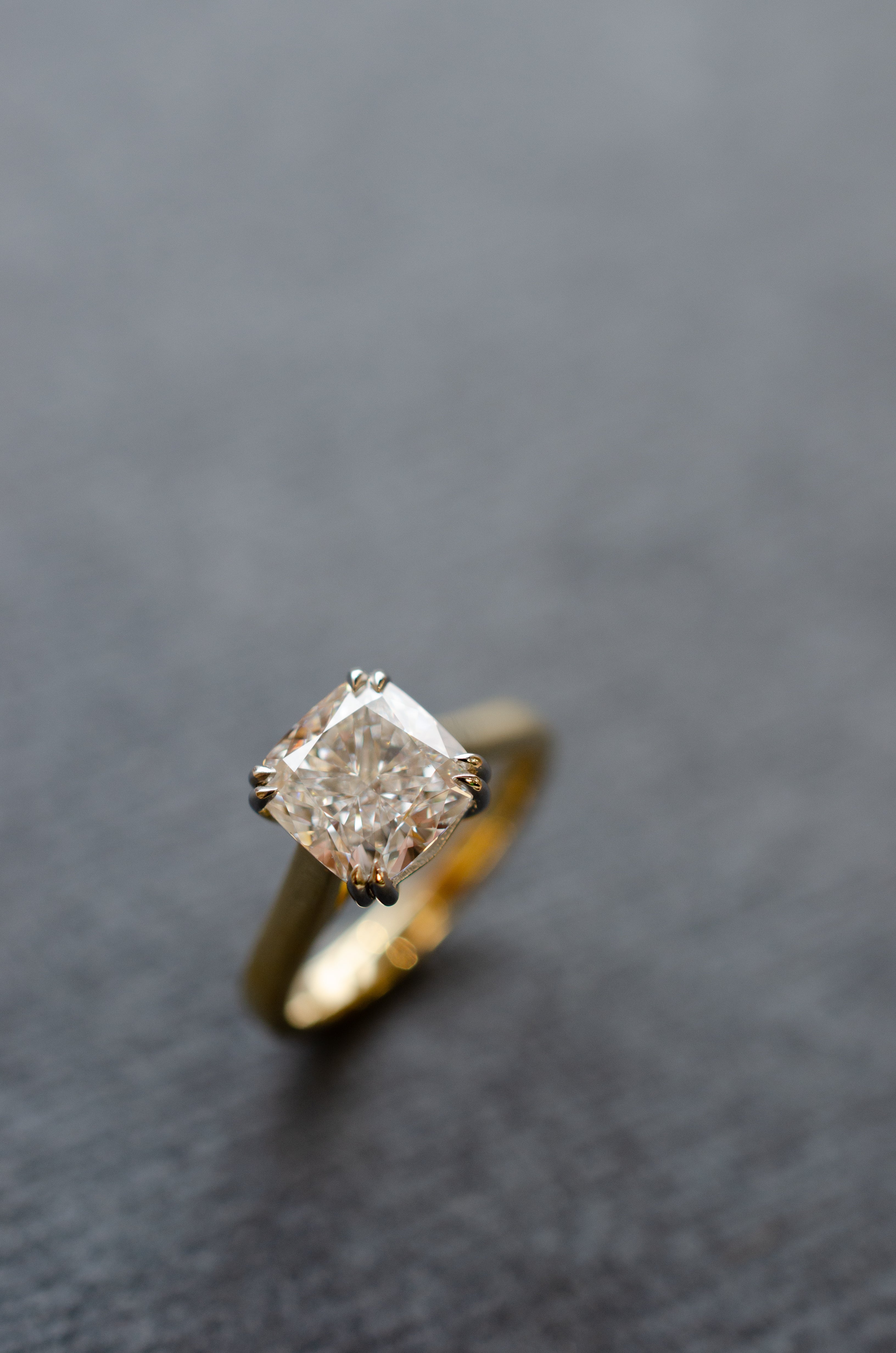 We've seen some stunning diamonds leave the workshop recently. 
Often the larger and more spectacular the diamond, the simpler the ring design. When the diamond does all the talking you don't need much else.
Except perhaps for a discreet detail like the double claws in this most recent bespoke diamond ring. The double claws were our suggestion, which the customer loved. They cradle the corners of the cushion cut diamond beautifully and add subtle extra interest.
We are seeing more of you opting for talon style claws of late, as opposed to the traditional ball claw.
What is a talon claw? 
Instead of rounding off the tips of the claw to a neat little ball, they are filed to a tapered point. Reminiscent of a talon shape, hence the name. 
The can be a subtle detail or a very pronounced more obvious design element. 
If you like the idea of talon claws instead of a ball claw then your stone can easily be set this way. It's generally only a claw style for larger stones, it's not something you would use on smaller melee stones. 
A chunky very obvious talon claw will need to be accounted for at the CAD design stage. As thicker and longer claws are needed to create the more impactful look.
If you like gentle talon, as shown on the cushion cut then regular size claws are sufficient to work with.  
Here are some words from our customer about their inspirations and experience. 
"I love the ring - obviously very simple but a very beautiful stone. I'm afraid the ring was not for a special occasion but to replace a very old broken engagement ring.
I was looking for a square diamond because I have always liked a square diamond ring that belonged to my mother but I preferred the cushion shape because it was a more gentle shape and sat beautifully in the double claws - which I hadn't seen before.
I opted for lab-grown because I like larger stones but they are still really beautiful and since my husband has just retired I didn't want him to spend too much - so we are both happy! I like the fact that I know where a lab grown diamond comes from too. 
I had thought I wanted diamonds around the ring itself but with Element's help I could see that looked too fussy next to my eternity ring so I went for something simple.
It also occurs to me that one day in the distant future I sincerely hope!!! my daughter might like to put the stone on a necklace - it's big enough to look fabulous worn that way!"