Lab Grown Yellow Diamond Oval Halo Engagement Ring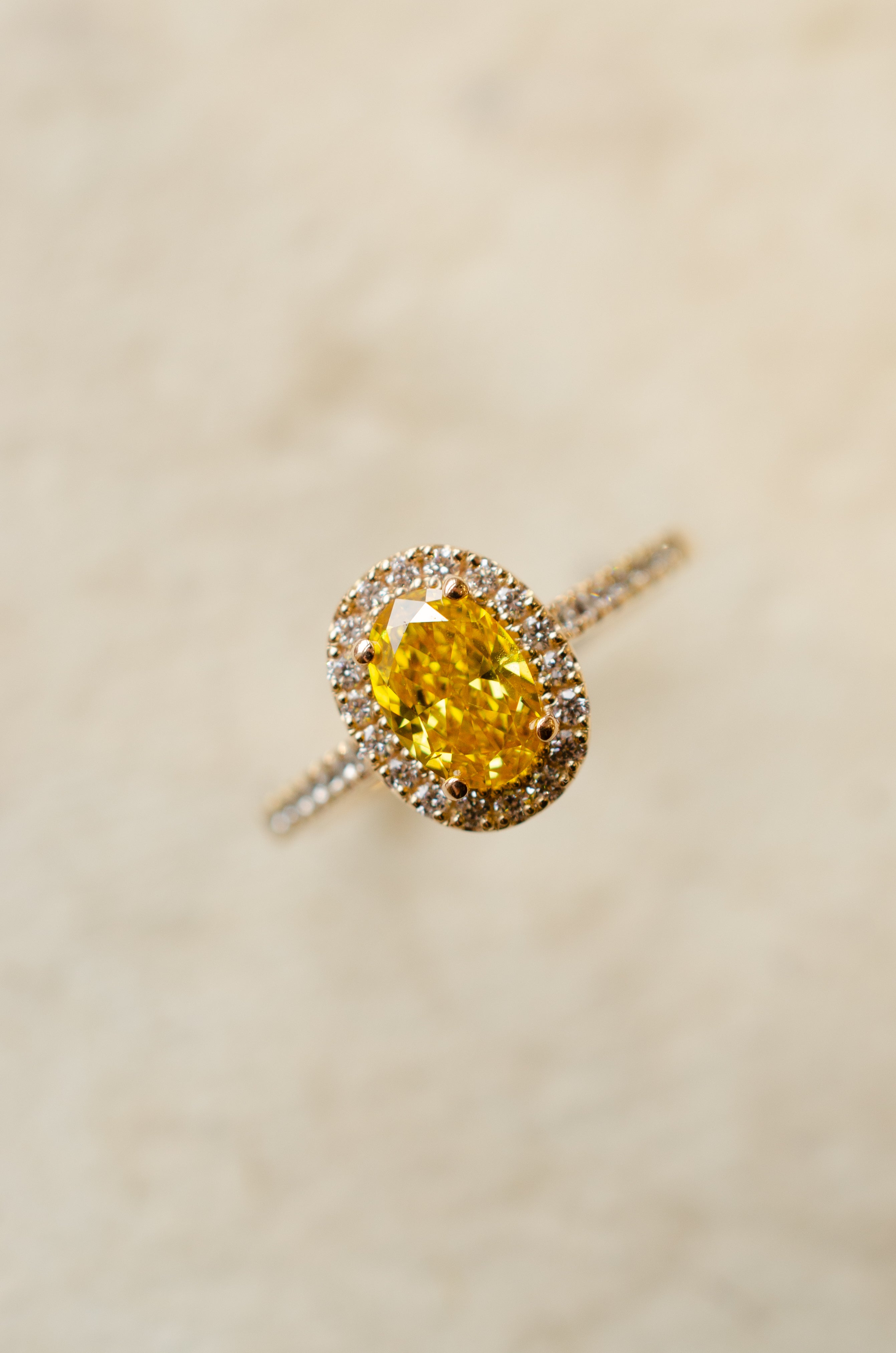 We are increasingly making more rings with lab grown diamonds.
Did you know they also come in yellow?
Inspired by the vibrancy of this fancy oval, we were intrigued to see if lab grown diamonds come in other shades. It turns out they do!
There is not quite the selection as found with white diamonds but there are a some interesting shapes and beautiful hues.
The customer went for 18ct yellow gold and a white diamond halo to contrast the yellow centre. As much as we love the long standing traditional white diamonds, it's fun to work on something a bit different. Our stone setter also loves setting the interesting coloured stones. 
And since the sun hasn't made an appearance for quite some time, this one brightened up our workshop!
We have included a wed-fit band running beneath the central head, this allows a straight wedding band to nestle in underneath the halo and sit flush up against the engagement ring.
It's always worth thinking about what style wedding ring you would like when choosing or designing an engagement ring. We of course can make bespoke fitted wedding rings to fit all kinds of engagement ring shapes - but some customers are set on a traditional straight wedding ring, if this is the case for yourself then just make sure to ask for the ring to incorporate the wed-fit bar.  
Now for the fun bit!
What other colours are lab grown diamonds available in?
We had a scout round our suppliers to see what's on offer.
Here is a selection of our favourites:
Lots of pinks and blues. We love the peachy tones and the teals.
Any takers?!
If you have an unusual colour or shade in mind, get in touch and we can see what we can find. You do have to bear in mind that every shape and shade is unique. Not every colour is available in every cut, and shades vary from one stone to the next. That's all part of the fun of the hunt. 
We hope that we've inspired you to be bold!