Organic Hand Carved Ruby Ring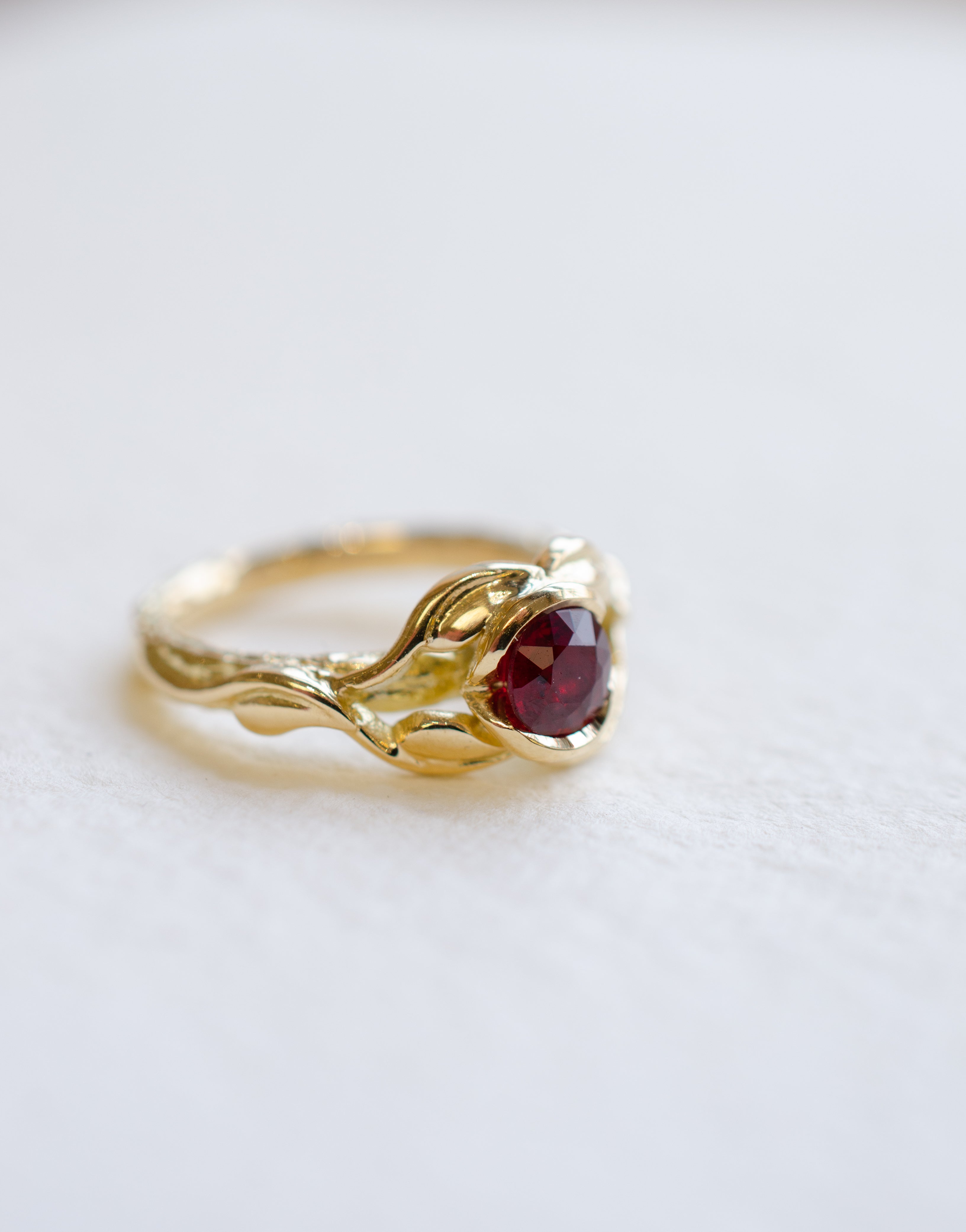 A rather unusual ring has just left our workshop. So many of our designs are now created using CAD design, it's been interesting to create this ruby and 18ct gold ring via more traditional methods. 
Sometimes CAD just isn't the way to go - this is often this case with organic style designs. CAD is brilliant for clean cut lines and perfect symmetry. When a design calls for a more tactile aesthetic, you can't beat the wonderful quality that a truly handcrafted piece delivers. 
Greg is our master wax carver. He created this ring completely from wax. He started with a small rectangle block for the ruby and sculpted it in to shape to house the stone with a semi bezel. 
The extra bonus of wax carving is that we can cast the initial prototype into silver, so that more tweaks can be made and the customer can see how the design is progressing. If it's not quite right then we can make alterations before committing to solid gold. 
Greg first made the ruby setting and textured band in wax. After they were cast into silver he then added the silver leaves and stems. These were created using silver wire and sheet. He then played about with various leaf placements to find an arrangement which worked around the ruby. 
Once assembled in silver and the customer has given their approval it then went for moulding and casting in to 18ct yellow gold.  
Since sharing our most recent bespoke creations it's been fun getting to know the sentiment behind the pieces and what has driven you towards a particular design. 
We have a rather heart felt and personal story to share with you for this ring. We hope you love reading John's wonderful words about the meaning behind the design.  
"The ring is for Sorina and is to be an engagement ring and the unusual choice of design and stone are because I wanted something that would capture what my love for her truly is. 

Too often modern society encourages us to see love as a bolt from the blue or something that happens at fist sight. But we all know that's not really true, don't we? 

Like a rose, my love for her is a complex, beautiful thing that has grown over time. It's alive. It's visceral. It's organic. It entwines us together. Yet, for all its beauty it has thorns. It can hurt us and it can wither and it can die if we leave it untended. 

To be successful in love Sorina and I have had to accept all of those things. The passion they bring, the intimacy, the pitfalls and the vulnerability. We have then have to choose to work at them, like a gardener carefully tending a rare rose. Words have become our secateurs, our communication with each other pruning back that which isn't needed and encouraging those parts that strengthen our relationship. 

This ring, shaped as a rose represents all of that. It didn't seem right to wrap such big ideas up in a generic 'off the shelf' item. So I turned to Element. You created a ring for me previously and captured exactly what I wanted then so I knew that if anyone could put my thoughts into metal it would be you. Once again, you haven't disappointed! The ring is fantastic."
We hope Sorina enjoys wearing such a special ring and a big thank you John for trusting in us to create this meaningful piece!