Diamond Art Deco Statement Dress Ring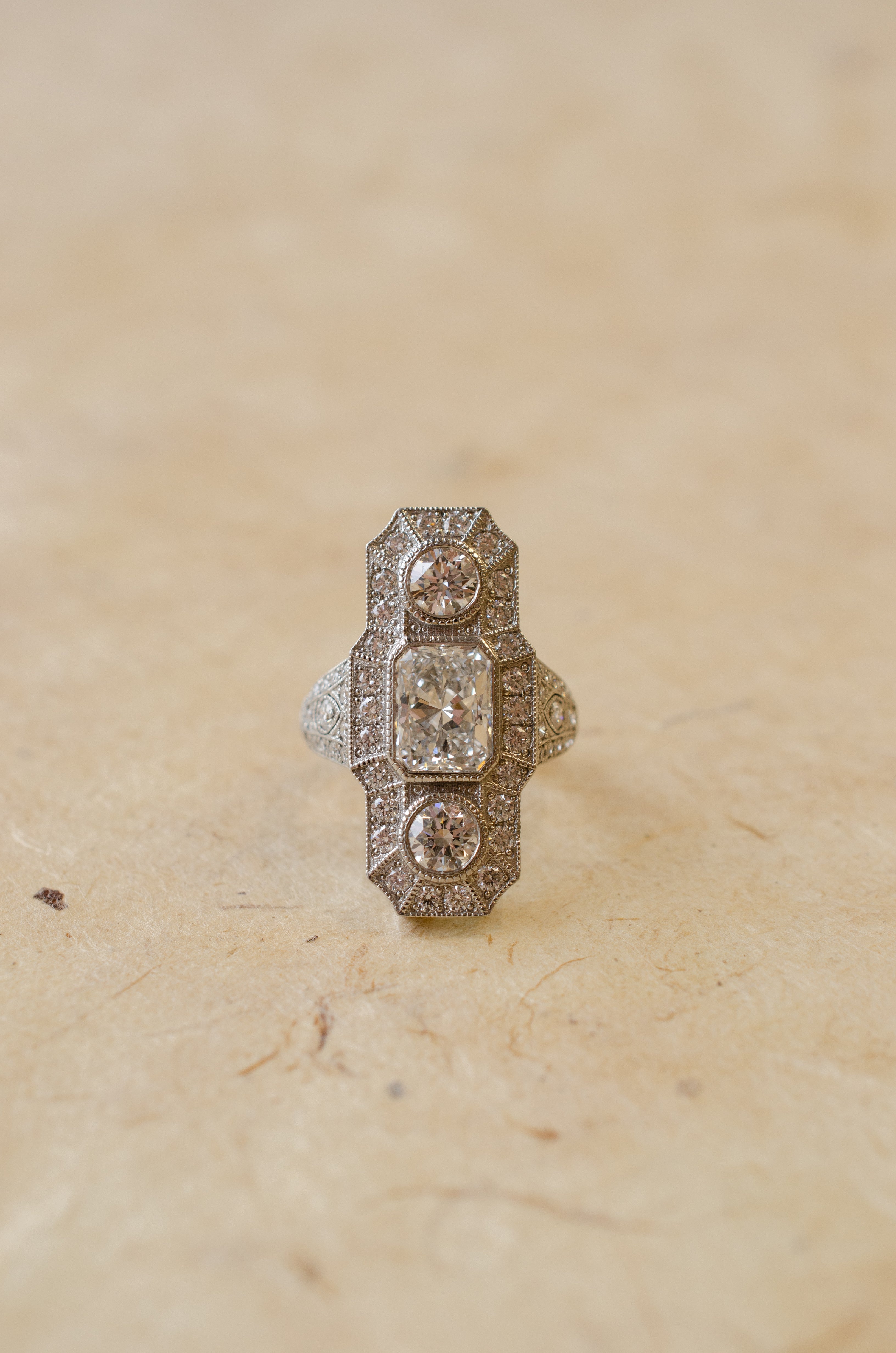 Every so often a real show stopper comes along, step back in time to the glitz and glamour of the 1920s with one of our all time favourite creations. 
The customer came to us with her idea for a statement dress ring reminiscent of the Art Deco era. 
The Art Deco aesthetic is characterised by geometric shapes and bold lines. An era that epitomises luxury, it makes a perfect theme to inspire statement styles. 
The customer also supplied her own stones, once the stone sizes are finalised we can move to the CAD design phase. If you have your own design in mind, we can work from a pencil sketch or inspiration imagery. 
The CAD design is where the ring really comes life and you can see how your idea translates in to a wearable piece. 
Many Art Deco rings featured intricate filigree work, with fine, lacy patterns of metal surrounding the gemstones. We often recommend adding a milgrain edge to a design to give it a vintage feel. This is a process which our stone setter adds by hand during the setting phase
Heavy weight milgrain can be added at the CAD design stage, but it's usually preferable that our stone setter adds it so that a finer finish is achieved. Fine milgrain is so delicate it could easily lose detail during the casting and finishing process. 
It adds a beautiful delicate almost frost like edge to the metal. 
In ring design in particular, the Art Deco aesthetic is as appealing today as back in the day. It is style that works harmoniously with the geometric shapes of gemstone cuts. If you love this design style, we recommend exploring statement rings on Pinterest to see the vast array of possibilities.