Lilac Oval Sapphire & Diamond Ring Remodel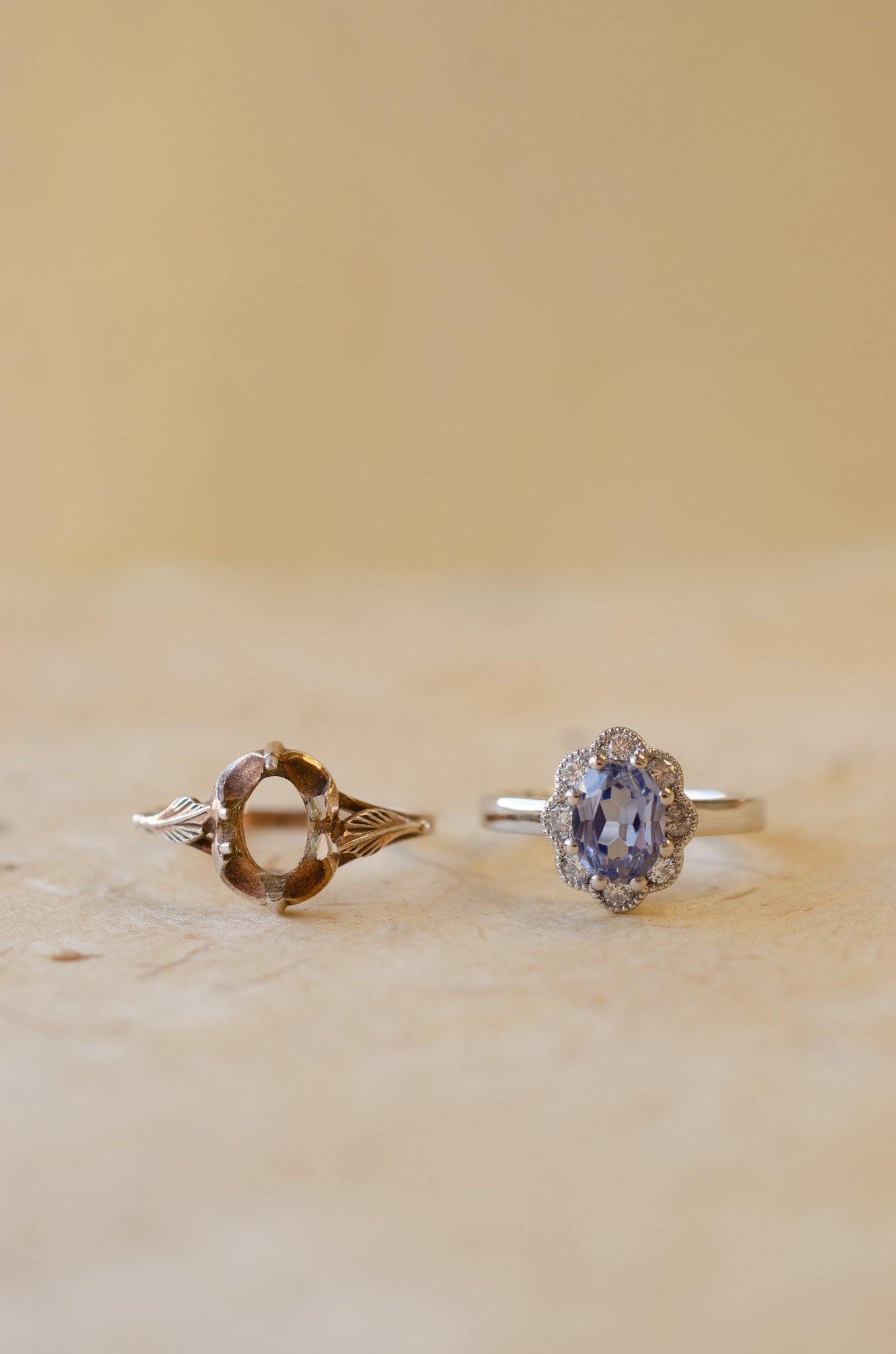 We've seen quite an influx of remodelling requests this year. It's a part of our bespoke work which is close to our heart. We know how sentimental certain pieces of jewellery can be, it's such a shame for special pieces to gather dust in your jewellery box. We love nothing more than the challenge of giving old stones a new reason to sparkle. 
Most commonly - we use the stones from an old piece of jewellery and re-set them into the new piece. It's a little more complicated when it comes to re-purposing the metal. 
In some cases we can melt down the jewellery and roll it in to wire to use for the new piece, or even make a simple bezel setting for the stones. However, most customers come to us with a specific idea in mind and usually the design needs to be created via CAD. If this is the case - then the design is cast in to new metal. 
If you are sentimental about the metal and want to keep all of the old materials then we suggest to have the settings CAD designed and cast in new metal, then we can melt down the existing metal and roll it for use as the ring shank. 
For our latest bespoke creation - this beautiful lilac sapphire belonged to the customer's Mother. We designed new halo for it to take centre stage in, surrounded by the diamonds from an old eternity ring. We added a 2.5mm wide shank as it was important to the customer than it must feel comfortable, so we matched the shank width to one of her existing rings that she wears daily. 
It is lovely to see the stones in their new settings, the halo has a scallop milgrain edge, which echoes the vintage feel of the original design. 
If you have sentimental old jewellery which you would like to repurpose, please do get in touch. We love working out new designs using existing stones combinations. It is very satisfying when you find a combo which works and uses as many stones as possible. After all, often they have spent a lot of time together, it would be a shame to split them up!